China's top 500 enterprises released in 2020!
Time:2020-09-28
From September 27th to 28th, the "2020 China Top 500 Enterprises Summit Forum" sponsored by China Enterprise Federation and China Entrepreneur Association was held in Zhengzhou, Henan Province. At the meeting, the high-profile list of top 500 Chinese enterprises in 2020 was officially released. Shenghong Group ranked 111th, raising 21 places from last year. Since it was first listed in 2009, its ranking has jumped 382 places!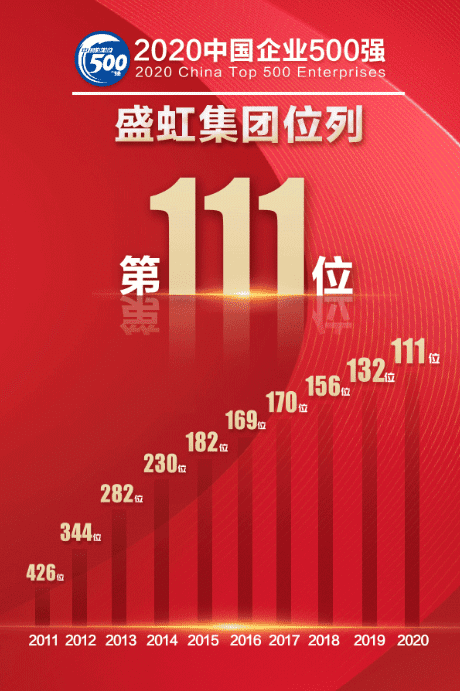 The theme of this forum is "cultivating new opportunities and making new start: the development of big enterprises in transformation". This is the 19th consecutive Summit Forum of top 500 enterprises held by China Enterprise Federation and China Entrepreneur Association since 2002. The Top 500 Chinese Enterprises is the ranking list of Chinese enterprises selected by the organizer after the examination and approval of the Expert Committee on the basis of the survey of domestic enterprises with a relatively large scale and taking the business income of enterprises as the shortlisted standard, which is released to the public once a year. With uniqueness, objectivity, continuity and authority, the list is regarded as the "touchstone" to test the development of large and medium-sized enterprises.

In addition, among China's top 500 manufacturing enterprises, Shenghong ranks 41st, 4th in China's chemical fiber manufacturing industry, and 3rd in Jiangsu Province's manufacturing industry; Among the top 100 leading enterprises in China's strategic emerging industries, Shenghong ranks 58th. The promotion of a series of rankings reflects the strong vitality of Shenghong Group in leading the high-end development of the industry with innovation, and shows the hard core strength of the leading enterprise in the industry.

At the press conference, Wang Zhongyu, President of China Enterprise Federation and China Entrepreneur Association, gave a keynote speech, citing specific examples of Shenghong Group and other large enterprises supporting related enterprises in an all-round way and driving upstream and downstream enterprises to resume work, and praising Shenghong for playing the leading role of "leading small enterprises with large enterprises", forming a benign pattern of financing development of large and medium-sized enterprises and promoting the whole industrial chain.
Since last year, facing complex and severe macro situation, Shenghong Group has insisted on making progress while maintaining stability, deepening endogenous power, continuously improving industrial layout and continuously promoting high-quality development. The key work of the group has made a key breakthrough and gained a brilliant "report card".

Facing a new round of changes in the era, Shenghong Group will take the initiative to embrace and respond to changes. With the spirit of triumph, high morale and resolute action, Shenghong Group will continue to set out to "establish the first brand in the industry and build a world-class enterprise"!