The strength of casting brand innovation outstanding
Time:2016-12-21
—Sheng Hong won the 2015 annual "Jiangsu Province independent industrial brand top fifty"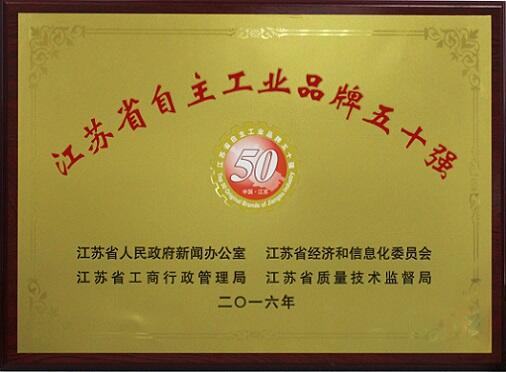 December 19th morning, the provincial government information office, the provincial Commission by letter, the provincial Trade and Industry Bureau, the Provincial Quality Supervision Bureau jointly announced Jiangsu 2015 annual independent industrial brand top fifty list of enterprises, Sheng rainbow group list.
The shortlisted top fifty enterprises located in the province's major industrial sectors, many of which are the leading benchmark in the field. Sheng rainbow with firm industrial development goals, continuous innovation ability to stand out finalists 50. Over the years, Sheng Hong stick in the field of the real economy, based on the main textile industry, extending the development of petrochemical industry chain, out of a private enterprise innovation and development path. In the economic new normal, Shenghong Group continues to accelerate the pace of transformation and upgrading of enterprises, and actively participate in the supply side structural reform, fusion "The Belt and Road", "2025 China manufacturing strategy". In the aspect of innovation and development of traditional industries, enterprises will be further integration of automation and informatization of manufacturing industry, and gradually promote the manufacturing industry service transformation, the formation of a new growth point of enterprise, complete industry from "manufacturing" to "made". With "heavy quality, heavy demand, heavy brand" as the starting point, focusing on brand building, vigorously implement brand strategy. By shaping the brand value, and constantly improve market awareness, in order to achieve the direction of the future direction of consumption, the impact of the market side, access to comprehensive industry discourse development goals.
In the future, Sheng Hong will continue to adhere to the "establish the industry's first brand, to create world-class enterprises" business vision, to achieve high-end brand development, intelligent, green, service-oriented, and international trends.