Innovative thinking to lead the development of enterprises
Time:2016-09-29
——Chairman Miu Hangen won the "12th Five-Year" innovator of textile industry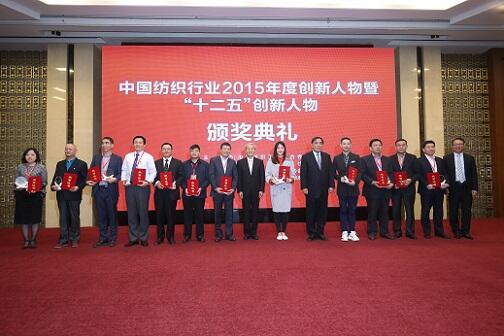 September 28th, China Textile Industry Association of the fourth session of the Council held in Beijing. The meeting elected the new leadership, and issued the "13th Five-Year textile" development planning and technology program. In view of the "outstanding achievements during the 12th Five-Year" Shenghong group made for Chinese textile industry, China textile industry association invited Sheng Hong Holdings Limited for the Council invited the vice chairman, chairman Miu Hangen won the "12th Five-Year" Chinese textile industry innovation person title.
In recent years, Shenghong Group adhere to the innovative thinking of the development of enterprises, formed a unique corporate culture of innovation, become the leading benchmark for enterprise development of the textile industry, the two ISO international standards organization group to undertake, actively carry out the work, issued the "textile chemical fiber filament boiling water shrinkage test method" of the international technical standards to achieve the domestic chemical fiber enterprises, leading the revision of international standard zero breakthrough. In 2016, Sheng Hong group and the Beijing Institute Of Fashion Technology jointly completed the "PTT and in situ polymerization and functionalization of PET with fiber preparation technology and industrialization" project won the two prize of national science and technology progress, these achievements fully demonstrates the positive Shenghong innovation strength, the development of the industry plays a leading role.
Sheng Hong during 13th Five-Year, insist on innovation, optimize the management, leading enterprises to upgrade, to achieve the "wisdom" of the rise and prosperity of the national industry with China own strength.